Former Air Force Colonel Files Sexual Harassment Suit Against Female Boss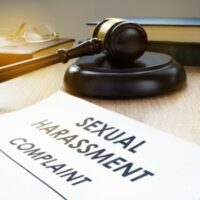 It's important to understand that, under the law, all individuals are protected equally. That means if there is a law that's enacted primarily for the protection of women, it also protects men in the same way. While it doesn't happen often, female bosses are accused of sexual harassment. In this case, a former Air Force colonel who took a job with a military contractor accused his female boss of running a "free-wheeling sexual culture" for the purposes of wooing lobbyists.
As is typical in many industries that vie over accounts, wining and dining prospective clients is the norm. Nonetheless, in all company-related events, a particular type of decorum must be adhered to and if someone says they aren't into it, then it must stop. In this case, it did not stop. Below, we'll take a look at the allegations.
Allegations concerning sexual harassment 
In this case, the former colonel alleges that his boss flirted with him on numerous occasions, bothered his girlfriends, and made several unwanted sexual advancements. One night, after heavy drinking, he claims his boss sexually assaulted him. After confronting his boss about the unwanted attention, the boss told him that he had to "play the game" if he wanted to keep his job. According to the colonel he was stonewalled after he helped the company win a $110 million contract with the VA. She blocked his promotion and eventually forced him out of the company. They even refused to pay severance that was contractually agreed.
The former boss said in a statement that the colonel is a disgruntled former employee looking to wage a smear campaign. The company issued a statement saying that the employee was let go for legitimate performance reasons, but that an investigation into his allegations are ongoing.
Nonetheless, the colonel earned impressive performance reviews and had an annual salary of over $300,000.
Who will win? 
No one. The defendants will dig in and defend their claim despite witnesses at the parties testifying on behalf of the plaintiff. Former girlfriends of the plaintiff will testify concerning inappropriate conduct of the boss and associates of the boss. The employee is out of a job and the boss is having her name smeared across the headlines. If the allegations are successful, she will likely be forced from her position. Those who operate on government contracts have a higher duty of care to ensure the protection of their employees than other companies in the private sector. The government can suspend or terminate the contract on the basis of misconduct, though they very seldom do. In most cases, they fine the company. But certainly, government contractors are held to a higher standard.
Talk to a Jacksonville Sexual Harassment Attorney Today 
If you have experienced sexual harassment in your workplace, you don't have to quit or deal with it. You can fight back. Call The Law Offices of Carol M. Galloway today to schedule a free consultation and our Jacksonville sexual harassment attorneys can begin discussing your next moves immediately.
Resource:
washingtonpost.com/dc-md-va/2022/04/19/ex-usaf-officer-sues-consulting-firm-over-alleged-sexual-harassment/