What Is Chapter 20 Bankruptcy?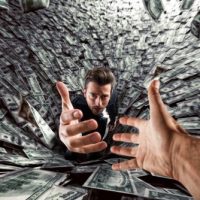 It's kind of a joke among attorneys. Individuals generally file under Chapter 7 and Chapter 13. When they do both at once, we call it Chapter 20. In this case, the Chapter 7 is filed first to discharge some of the qualifying debts. This will hopefully get the debtor under the debt limits allowed by Chapter 13. They can then file for Chapter 13 because they owe less money. Below, we'll take a look at how this works.
Chapter 7 versus Chapter 13: What's the Difference? 
Chapter 7 entitles you to a complete discharge of all unsecured debts but there is a cap on how much money you earn. On the other hand, Chapter 13 allows you to discharge some unsecured debts, but there is a cap on how much money you owe. Chapter 13 requires a debtor to make some repayment over a 3- to 5-year period, but it also allows them to handle unsecured debt by rolling it into a repayment plan.
Chapter 7, and Chapter 13 
When you file for bankruptcy under Chapter 7, you discharge all of the unsecured debts like credit cards. However, there is a cap on how much money you make and secured debts, like mortgages, may not survive the process. In Chapter 13, there is a cap on how much money you owe. However, Chapter 13 handles secured debt better than Chapter 7. In order to get you under the threshold, a bankruptcy attorney can file for Chapter 7 first, discharge enough debt to get you under the threshold, and then refile under Chapter 13.
There is only one major drawback. Chapter 13 does allow you to discharge some debt. If you file for Chapter 7 first, you will not be entitled to a second discharge. Nonetheless, it will buy you enough time (hopefully) to make payments on a mortgage or vehicle.
Secondly, once the unsecured debts are no longer hovering over your head, you will have extra money to make Chapter 13 payments. In many cases, a Chapter 20 bankruptcy allows a debtor to make the repayment in 3 as opposed to 5 years.
HELOC loans 
Those who are in debt sometimes take out home equity lines of credit. However, in some cases, the lien placed on your home by the loan can be stripped away in Chapter 13 if you file for bankruptcy. This possibility is only open to you in Chapter 13 and it only works when the second mortgage is completely underwater.
Is Chapter 20 Bankruptcy Right for Me? 
All considerations that impact your financial future must be taken with due diligence. Jacksonville bankruptcy attorney Carol Galloway has helped numerous Jacksonville natives climb their way out of debt and rebuild their credit from scratch. Call today to schedule a free consultation and we can begin discussing your next moves immediately.