Female Tesla Employees Face "Nightmarish" Conditions According To Lawsuit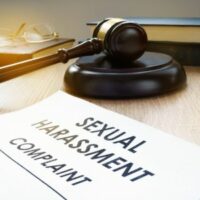 A lawsuit filed by a female Tesla employee in California states that the company has rampant sexual harassment problems. According to the suit, male employees would make lewd gestures and comments to female employees on the night shift. The woman complained to supervisors about the conduct, but they failed to intervene on her behalf.
California has among the most advanced apparatuses for anti-sexual harassment education and legislation. It's typical to find attorneys in California who specialize primarily in sexual harassment training, lawsuit prevention, and litigation. These multi-million dollar firms set policy for companies to avoid these lawsuits based on California's advanced and far-reaching legislation. Nonetheless, major California-based companies like Tesla fail every year to meet even the basic requirements under the law.
The lawsuit comes after Tesla recently lost a verdict to a former contractor who said he experienced persistent racism while working at the same factory. The jury award was an unbelievable $137 million.
What's going on with this factory? 
The thing you have to realize about California is that, despite its overarching policies toward progressive interests, it is the most class-divided state in the country, largely due to the regulatory barriers placed before the poor. It is very difficult for someone without extensive capital to start a business in a state like California. The costs associated with having a sexual harassment policy are high enough, but you also have to comply with environmental statutes, municipal statutes, wage and hiring laws, and more. So, how do large billion-dollar companies like Tesla do it?
Well, they shirk the system, which is something that smaller companies generally cannot do. They do this by forcing their employees to sign arbitration agreements and then agree to confidential settlements. So, they pay them off to remain silent and the employee has minimal leverage to pressure the company to make wide scale changes.
This resulted in a $137 million verdict against Tesla which they are now appealing in court. It has also resulted in this sexual harassment lawsuit. In other words, large companies like Tesla don't face the same consequences as a smaller business would. This means more wealth inequality between the capital-owning class and the laborers and less upward mobility. Even those who own million-dollar businesses face bankruptcy under California's regulatory structure. Tesla has essentially rigged the system so that their employees cannot file lawsuits in court against them and must go through arbitration. In other words, all the power is really with the company, none of it is with the worker, and yet California boasts its regulatory infrastructure as the future of America.
So, it's an evil symbiosis between the state of California and major companies like Tesla which can avoid laws the rest of us are forced to operate under.
Talk to a Jacksonville Sexual Harassment Attorney Today 
If you have faced any type of employment discrimination or sexual harassment in your workplace, discuss the matter with a Jacksonville sexual harassment attorney today, and we can begin the process of cataloging the abusive workplace situation.
Resource:
financialpost.com/transportation/autos/teslas-female-employees-face-rampant-sexual-harassment-lawsuit-alleges