Examining the Rules for a Chapter 7 Bankruptcy in Florida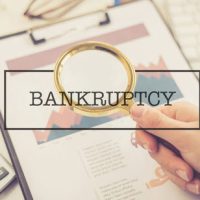 Chapter 7 bankruptcy is known as liquidation bankruptcy. A filer can discharge all of their unsecured debts. Unsecured debts relate to personal loans, credit cards, and other types of debt that are not backed by collateral such as a mortgage or a car loan. To file under Chapter 7 in Florida you must be a permanent Florida resident or own property in Florida. You must reside in Florida for the greater part of 6 months, or 91 days to be eligible to file your case in Florida.
Steps to filing a Chapter 7 bankruptcy 
Your first order of business is to determine if bankruptcy is the best option and will solve your financial problems. You are required to list all assets and debts in your filing. You and your attorney can exempt certain property from liquidation. You will then need to prepare your petition. The petition must include all of your debts and assets. At the point of filing your bankruptcy petition, an automatic stay will go into effect. That means that creditors cannot take any adverse actions against you while your bankruptcy is in motion. The court will then assign a bankruptcy trustee to your case. The bankruptcy trustee can raise objections to any assets you attempt to protect. The creditors can also file adversary claims against you. At the end of the process, most of your unsecured debts will be discharged. Student loans are considered unsecured debt but currently remain non dischargeable.
Florida's rules relating to bankruptcy exemptions 
When you file for bankruptcy, your debts and assets become part of the "bankruptcy estate". Debtors are allowed to protect some assets in bankruptcy court from the liquidation process that is used to repay creditors. Unprotected assets will be sold off to repay creditors. However, many types of assets are exempt from liquidation. To use Florida's rules for asset protection, you must have resided in the state for at least 2 years.
Florida debtors who have not resided in the state for at least two years will have to file under federal rules or the rules of the state in which they resided in for at least 180 days. Federal rules tend to be less generous than Florida's specifically for homestead property.  So, timing is everything when it comes to a Florida bankruptcy.
Chapter 7 bankruptcy petition 
A Chapter 7 bankruptcy petition is initiated when the filer files their bankruptcy with the court. At that point, the automatic stay goes into effect and creditors may no longer take adverse actions against you. The debtor will need to provide the court with substantial information about their finances and their household size.  The petition must be signed under oath.
The petition requires that debtors list their secured and unsecured assets separately. Secured debts are those backed by collateral while unsecured debts are credit cards and personal loans. Most unsecured debts can be discharged in Chapter 7. A Jacksonville bankruptcy lawyer can help you file your Chapter 7 petition and erase most of your unsecured debt.
Talk to a Jacksonville Chapter 7 Bankruptcy Lawyer Today 
The Law Offices of Carol M. Galloway represent the interests of those filing under Chapter 7 bankruptcy in Jacksonville. Call our Jacksonville bankruptcy lawyers today to schedule an appointment, and we can help stabilize your finances and get debt collectors off of your back.